Crawler Crane Spare Parts
As essential functional parts, crawler crane spare parts play an essential role in the operation and maintenance of the whole equipment. We are committed to the production of high-quality and wear-resistance crane spare parts in the early design stage, we use finite element analysis technology to reduce the structural fatigue of parts, so as to improve their service life.
Crawler Crane Track Chain
Adopt mesh belt furnace for roller and sleeve C-N co-infiltration heat treatment and shot peening, we improve the fatigue strength and impact performance of the Crane Drive links.
The track chains with new geometries and special heat treatments on all components (pins, bushings, and links), which guarantee maximum performance and longer wear life.
The track link needs to enter the chain to load the running gear before delivery, which increases fatigue strength and reduces initial chain wear. Track Chains ranging from link pitch 90 mm to link pitch 350 mm – and above for cast monoblock designs. The model of the crawler crane with track chain includes KH150-3, LS108BSS, P&H335, P&H440, P&H550, 5035, 5045, 7035, 7045, etc.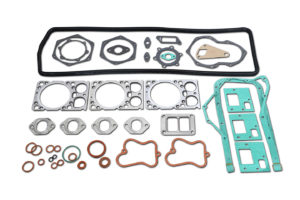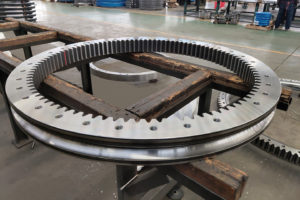 Slewing bearings are so widely used in the real industry that we can call them "joints of machines". Normalize after tempering, eliminate internal stress, and enhance toughness, the hardness after normalizing is 229-268HB, hardening hardness of the raceway is 45 + -5HRC.
42CrMo as the raw material, using GCr15 rolling components to extend service life. The slewing bearing diameter can be 1-10 meters. Our slewing ring bearing uses No. 2 extreme-pressure lithium-based grease lubricating oil, which can ensure the bearing does not leak oil!
Gear is the main part of the machinery, with material 20CrMnTi, produced in the forging process. Our forging equipment is about 6300 tons. Through a CNC automated production line, tempering after carburizing can eliminate internal stress to improve the gearwheel's ductility and toughness. The hardness after tempering can reach 58HRC. The carburizing of gear is in strict accordance with industry standards, and the carburizing depth reaches more than 1mm.
The key "5C" parts of engines include the connecting rod, cylinder head, cylinder block, camshaft, and crankshaft. Connecting rods, placed between the piston and crankshaft convert the linear reciprocating motion of the piston to a rotary motion for engine power transmission. They are subject to extremely high mechanical impacts, rotational moments, and high temperatures.
A cylinder head located on a cylinder block is a device that has functions to absorb combustible gases, ignite, and drive out exhaust air. The core parts in internal combustion engines where energy from ignition and combustion is transmitted to pistons and crankshafts for a revolution power.
Key components of engine valve systems, camshafts drive the rocker arms, and tappets that open and close valves. The number used varies with the form of the engine. Crankshafts play the role of converting into rotational motion the linear reciprocating motion of pistons and connecting rods generated by combustion and expansion processes in engine pistons. Except for "5C", we also have other parts of the engine like pistons, piston rings gasket set, etc.
Dear friend, you can submit your pressing need online, our staff will promptly get in touch with you. If you have any questions, consult our customer service through online chat or telephone in a timely fashion. Thank you for your request online.
available from 00:00 – 23:59
Address :Room A306, Building#12, Qijiang Road, Ganjingzi