DEMAG crawler crane Undercarriage parts

Quality Materials
With advanced CNC machine tools, paint spraying lines meeting environmental protection standards, and professional quality inspection laboratories, the high-standard management mold room, casting and forging workshop, heat treatment workshop, and finishing workshop create a high-efficiency production line.

Experienced Team
With parts manuals, drawings, and original production process standards, a professional technical team assures high-precision dimensions. Furthermore, our engineers make drawings and CAD models to help customers realize customized services.
Strict quality inspection
Each crawler crane chassis has a traceable production batch number, and a quality inspection department performs material inspection, mechanical performance inspection, hardness inspection, tensile inspection, destructive inspection, size inspection, etc. Tracked chassis parts undergo 7+ quality inspections before leaving the factory. Customers can also request third-party quality inspections and inspection reports.
DEMAG crawler crane Undercarriage accessories to provide models
CC1500, CC1800, CC2000, CC2200, CC2500, CC2800, CC4000
DEMAG Crawler Crane Track Shoe
Material:
A: 50-80 Ton: Material: 31SiMn2: C%–0.27-0.34 Si%–0.6-0.9, Mn%–1.40-1.80
B: 100 Ton-300Ton: Material: 28CrMnMo: C%–0.24-0.32, Cr%–0.7-0.9, Mn%—0.8-1.1, Mo%–0.25-0.4
C: 300 Ton above: Material: 30NiCrMo: C%–0.27-0.33, Cr%–0.80-1.20, Ni%–3.0-4.0, Mo%–0.30-0.60, Mn%–0.60-1.0
Tempering Hardness: HRC25.5-32.5
Specifications:
We supply track shoes for the following DEMAG crawler crane.
CC1500 CC1800 CC2000 CC2200 CC2400 CC2500 CC2800
Many types of track shoes are available for those DEMAG crawler cranes.


The mold is usually made of wood mold or aluminum film (we use aluminum film), aluminum film is good; the mold is usually made according to the sample or production drawings.
The shape is made of sand according to the mold
Pour the molten steel into the sand mold (first analyze the chemical composition of the furnace before the spectrometer)
The mechanical properties of the track shoe after heat treatment, usually using CSS44300 universal tensile testing machine
Surface cleaning refers to steam-cutting wind gun gates, risers, and sand cleaning sand cores with windguns
Normalizing is mainly to eliminate internal stress and reduce the hardness of the workpiece.
Surface treatment refers to the sharp corners, burrs, etc. remaining on the surface after the work workpiecepiece is normalized.
Quenching and tempering are mainly to improve the comprehensive mechanical properties of the workpiece
Shot blasting refers to the shot blasting after the workpiece is quenched and tempered to achieve a smooth surface.
The contact position between the track shoe and the wheel body tread and the intermediate stage quenching treatment at the boss
Processing according to the drawings
Grinding is to polish the track shoes after quenching or quenching, and the smoothing needs to be smoothed.
Check whether the polished track shoes are qualified again.
Qualified track shoes to be painted.
The product is packed and stored in the warehouse.
Production Process:

DEMAG Crawler Crane Track Roller
Material: 40MN2, 42CrMo
40MN2: C%–0.37-0.44, Mn%–1.4-1.8 Si%–0.17-0.37
42CrMo: C%–0.38-0.45,Mn%–0.5-0.8 Cr%–0.90-1.20 Mo%–0.15-0.25, Si%–0.17-0.37
Quenching and tempering hardness: HB250-300
Working Surface: HRC50-55
Quenching Depth: 4-6mm
Specifications:
We supply track rollers for the following DEMAG crawler crane:
CC2800 CC2000 CC2200 CC2400 CC2500 CC1500 CC1800
Many types of track rollers are available for those DEMAG crawler cranes.
Cut the round steel on the sawing machine according to the size of the drawing
Forging and normalizing according to the blank drawing
Roughing the parts
The rough-processed products are tempered, shot blasted, and medium-frequency according to technical requirements (inspection of the Leeb hardness tester)
Heat treatment of the half-wheel body for welding
Finishing, drilling, and tapping after welding
The finished wheel, end cover, shaft, and other accessories for cleaning, assembly, rolling test, pressure test, oil injection
Spray the assembled roller
Pack the painted track rollers into the warehouse
Process:

We provide customized service
Contact our consultants for more drawing information.
Learn about crawler crane chassis parts manufacturing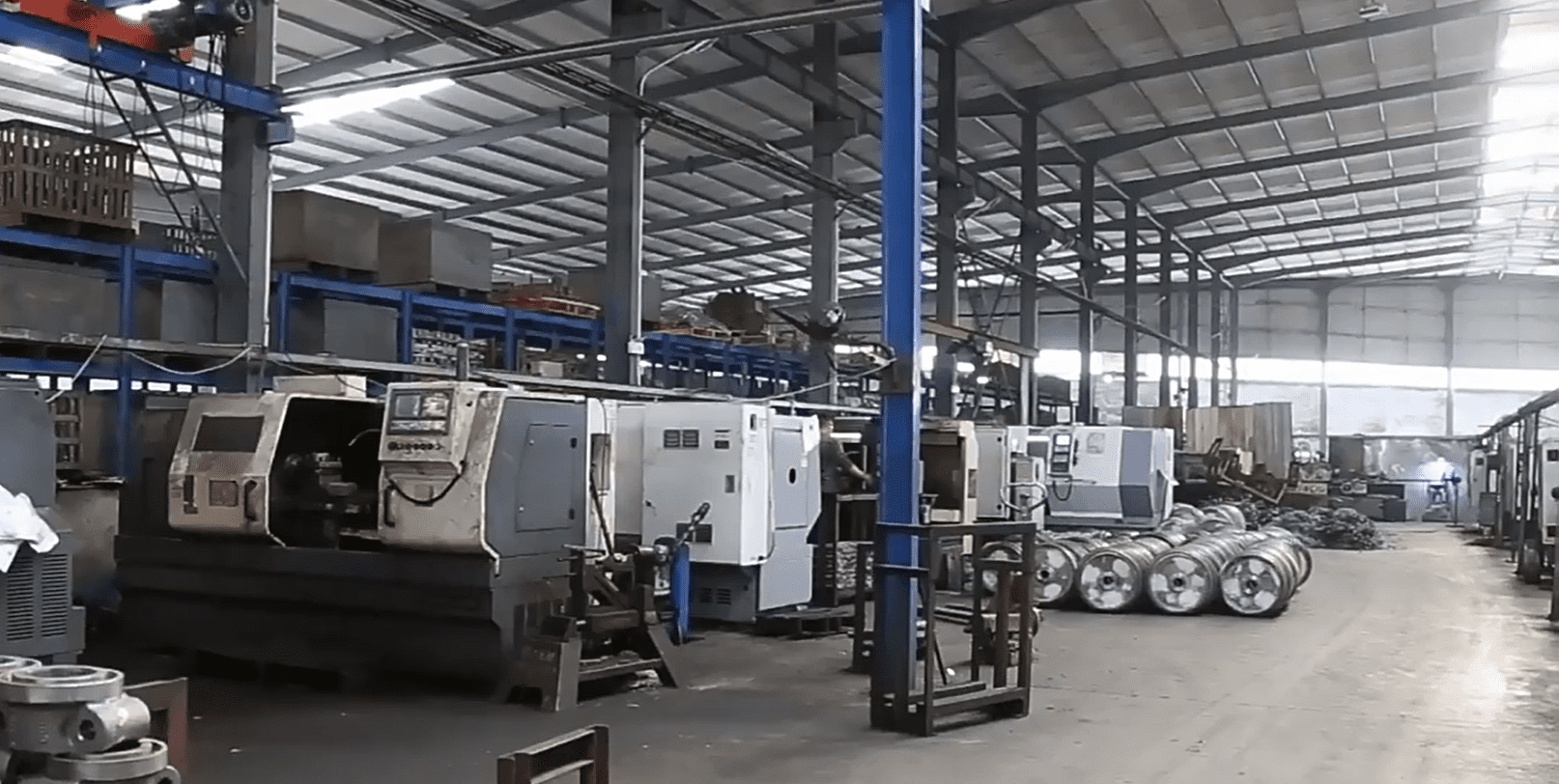 Value Crane Crawler Crane Undercarriage Fittings is a modern 3 million square foot facility. Produces high-quality accessories for multiple brands of crawler crane chassis. Our factory operations are managed by over 100 experienced technicians and many more support staff.
The manufacturing process of crawler crane chassis parts begins with the sorting and processing of raw materials to manufacture various accessories. They are repeatedly heated and forged to increase their strength. Quenching and tempering are performed after forging.
FAQ
Maybe there's something you want to know...
Are you a trader or manufacturer?
We are both. Our crawler crane undercarriages factory was established in 2007 based on Dalian city.
How can I be sure the parts will fit my crane?
First need to make sure the correct brand and model. After ordering to us, we will conirm the size again to make sure the part can fit your crane.
How about the delivery time?
According the part and the Qty. Normally 15-20 days is enough.
Which kind of packages you use?
For rollers we use the wood pallets, for track pad we use the steel pallets.
Can clients customize the goods?
Absolutely, we can design and produce the goods according the clients' demands.
Dear friend, you can submit your pressing need online, our staff will promptly get in touch with you. If you have any questions, consult our customer service through online chat or telephone in a timely fashion. Thank you for your request online.
available from 00:00 – 23:59
Address :Room A306, Building#12, Qijiang Road, Ganjingzi