Crawler Crane Undercarriage Working Conditions
Crawler cranes are a type of crane that has a crawler tread and can move on its own. The crawler crane undercarriage is an essential part of the crawler crane.
The undercarriage is made up of two main parts, the frame and the track. The frame is made up of a series of beams that are connected to each other to form a rectangle. These beams are usually made of steel or aluminum and they will be bolted together with nuts or welded at their edges. The track is usually made out of steel and it will sit on top of the frame, which will help guide it as it moves around.
Crawler cranes are used in construction sites for heavy lifting jobs, such as moving steel beams and concrete slabs. They are also used in mines for extracting coal or other minerals.
How to Ensure the Safe Operation of Your Crane
It is necessary to carry out regular inspections of your crane undercarriage. You should also check whether or not it has any cracks or signs of wear and tear. If you find any such issues, you should get them fixed as soon as possible before they cause any serious damage to your crane undercarriage or lead to accidents.
It's important to clean and lubricate the undercarriage every six months, or at least once a year if you work in a dusty environment. It's also important to check the oil levels on your crawler crane regularly and change them as necessary.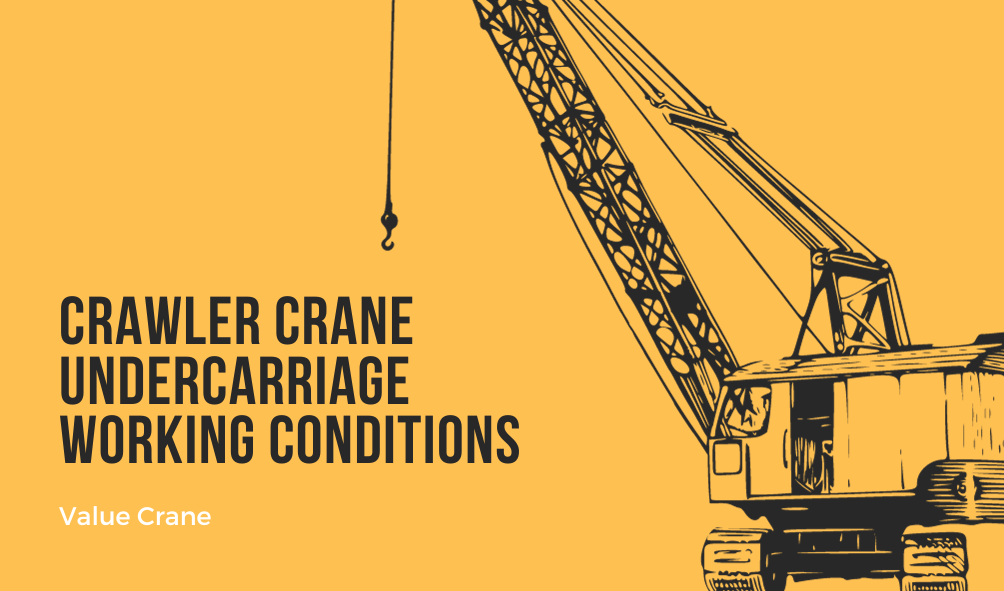 Crawler crane maintenance is a crucial thing to do, as it will help you keep your crawler crane in good condition and make sure it will last for a long time.
The following are some important tips that you should follow when maintaining your crawler crane:
Check the oil level of the engine regularly. If it is too low, then replace the oil with a new one.
Inspect the tires for any signs of wear and tear or damage. Replace them if necessary.
Check that all bolts and nuts are tightened properly before each use of your crawler crane. This will prevent any accidents from happening while using it in the future.
Clean and check the undercarriage regularly to make sure there's no dirt or rocks that can cause damage to the machine.
Inspect the underside of your crawler crane regularly to make sure that there are no cracks or other damage that could cause serious problems in the future.
Make sure all hydraulic hoses and cables are in good condition before every use of your crawler crane to prevent problems from happening later on.
Check for any loose nuts and bolts before using your crawler crane. This will help you save time if something does happen during the use of your crawler crane.
Finally, make sure that there is enough lubrication for the gears and other moving parts of your machine.
What Are The Best Ways of Protecting Crawler Crane Undercarriages from Damages?
The undercarriage is an integral part of a crawler crane that needs to be protected to avoid damage. The best way to protect crawler crane undercarriages from damage is By keeping them clean and lubricated. It is also important to inspect the undercarriage regularly and fix any problem as soon as possible to avoid any further damage.
By using a protective mat under the crane's legs. This can prevent any damage that may happen to the crawler crane's leg when it is being moved around or if it is not properly secured on the ground. To invest in proper protection equipment. There are many protective products available on the market that can be used to protect crawler crane undercarriages from damage.
while it is being moved around. By using a jacking device to lift the crawler crane off the ground and make sure it stays on its wheels while moving. This can be used to avoid any damages that may occur if the crawler crane rolls over or if something falls on top of it while moving.