Hitachi Crawler Crane Undercarriage Parts
The undercarriage is the heart of a crawler crane, providing stability, support and mobility for safe lifting operations. For Hitachi crawler cranes, using genuine OEM undercarriage parts is key to optimizing performance and longevity. In this article, we'll look at important Hitachi undercarriage components and why using premium Hitachi Crawler Crane Undercarriage Parts pays off.
Hitachi is a leader in crawler crane engineering and manufacturing. For decades, Hitachi has produced rugged, high-performing crawler cranes suited to a wide range of applications. Some of Hitachi's most trusted crawler crane models include:
HITACHI crawler crane parts & models
| | | |
| --- | --- | --- |
| KH100 | KH180-2 | KH500-3 |
| KH100-1 | KH180-3 | KH700-2 |
| KH125 | KH230 | TH55-2 |
| KH125-2 | KH300 | CX1000 |
| KH125-3 | KH300-2 | CX1100 |
| KH150-2 | KH300-3 | CX1800 |
| KH150-3 | KH500-2 | CX2000 |
From mid-size models like the KH125, KH150 and KH180 to large lifting capacity cranes such as the CX1000, CX1100 and CX2000, Hitachi builds quality crawler cranes engineered for durability, safety and productivity. Legacy models like the KH100-1, KH300-2 and KH500-2 have a proven track record at demanding jobsites worldwide. No matter what Hitachi crawler crane you utilize, rely on genuine OEM undercarriage parts from Value Crane to optimize uptime and performance. Our experts can quickly identify the parts you need to keep your Hitachi crane lifting strong.
Hitachi Undercarriage Parts: What You Need to Know
Hitachi crawler cranes feature robust undercarriage designs optimized for lifting applications. Key undercarriage components include:
Track shoes – The high-strength steel shoes provide durability and traction to drive the crane.
Track rollers – These rollers guide and support the track chain assembly, reducing friction and extending shoe life.
Sprockets – Engine-driven sprockets mesh with track shoes to propel the crane.
Idlers/carrier rollers – Idlers align the track assembly and support the weight of the crane.
Final drives – Transfer engine torque to the drive sprockets through optimized gearing.
Using genuine Hitachi OEM parts like shoes, rollers, idlers, sprockets and final drives ensures proper fit, performance and safety.
The Benefits of Genuine Hitachi Undercarriage Parts
Opting for genuine Hitachi parts offers crawler crane owners key advantages:
Optimized designs – Parts are engineered specifically for Hitachi undercarriages.
Quality materials – Hitachi uses high-strength alloy steel for maximum durability.
Precision manufacturing – Components are machined and assembled to tight tolerances.
Proper sizing – Parts like shoes and rollers fit perfectly for smooth track movement.
Enhanced safety – Genuine parts meet stringent Hitachi engineering standards.
Longer wear life – OEM parts last longer compared to aftermarket components.
Peace of mind – Parts come with Hitachi's factory backing and warranty.
While aftermarket parts can cost less upfront, using genuine Hitachi spares pays off in the long run through extended service life, increased uptime and reduced repair costs.
Hitachi Track Shoes – The Foundation Beneath Your Crane
The steel track shoes take the most abuse of any undercarriage component. Hitachi track shoes feature thick sections and hardened metal to withstand heavy loads and rugged terrain. With wide service areas, the shoes provide stability and distribute ground contact pressure. The grouser steel bars and heat-treated pins further improve traction and performance. For a long shoe life, trust genuine Hitachi track shoes.
Keep Things Rolling with Hitachi Track Rollers
To extend track shoe life, Hitachi track rollers provide smooth support and alignment of the moving chains. The rollers feature thick roller shells, deep heat-treated treads, beefy shafts and high-capacity bearings. Hitachi applies advanced seal designs to retain grease and keep contaminants out. Relying on genuine rollers enhances chain movement and reduces shoe and sprocket wear.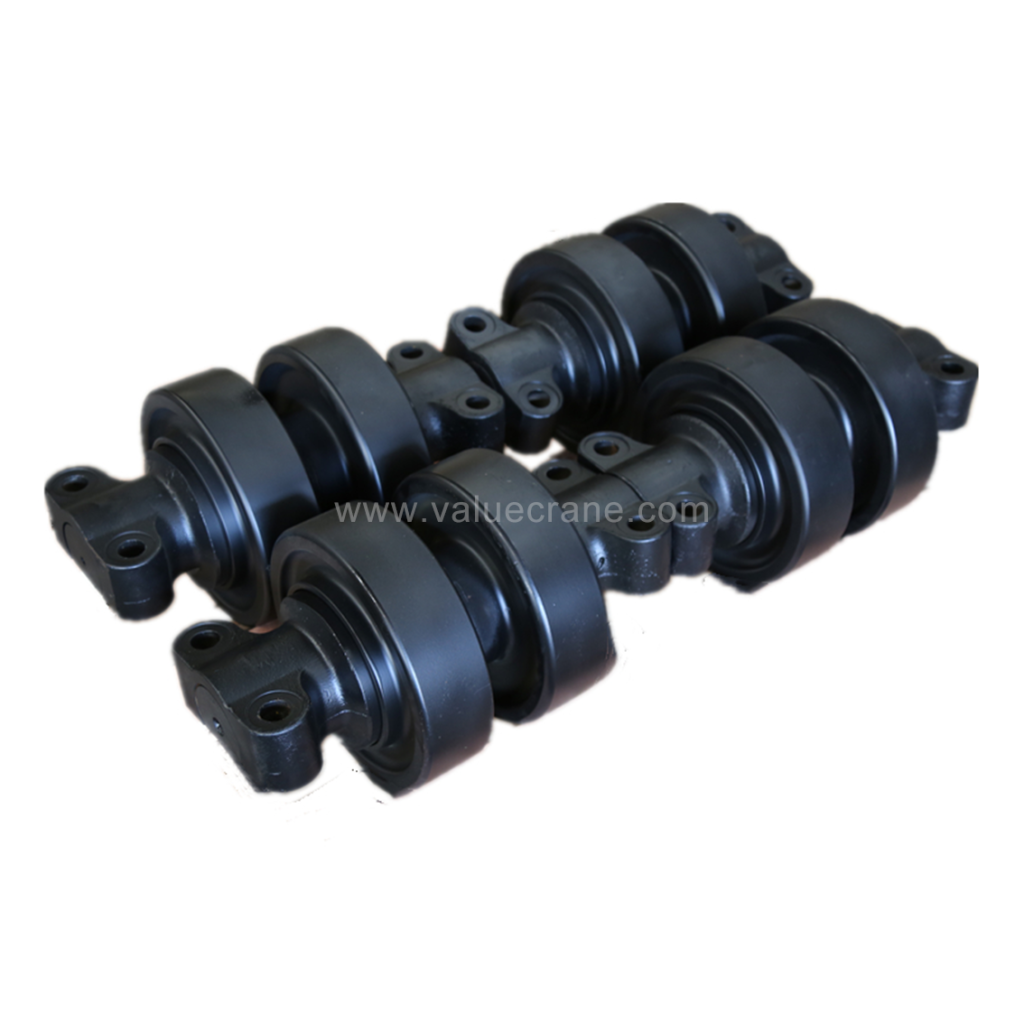 Hitachi Idlers – Supporting Your Crane from Below
Hitachi undercarriages utilize heavy-duty idlers or carrier rollers designed for each crane model. The idlers align the track frames properly and bear the weight of the crane. Robust idler construction ensures reliable performance across tough terrain. With heat-treated journals, specialized seals and mountings, Hitachi idlers outlast inferior aftermarket pieces.
Keep Your Crane Moving with Hitachi Sprockets
To transfer engine power efficiently, Hitachi sprockets utilize high-strength alloy steel for durability. The sprocket teeth are machined for precision fit with the track shoes. The multi-bolt hub mountings provide a secure, vibration-resistant fit. For optimal torque transfer and long life, trust genuine Hitachi drive sprockets.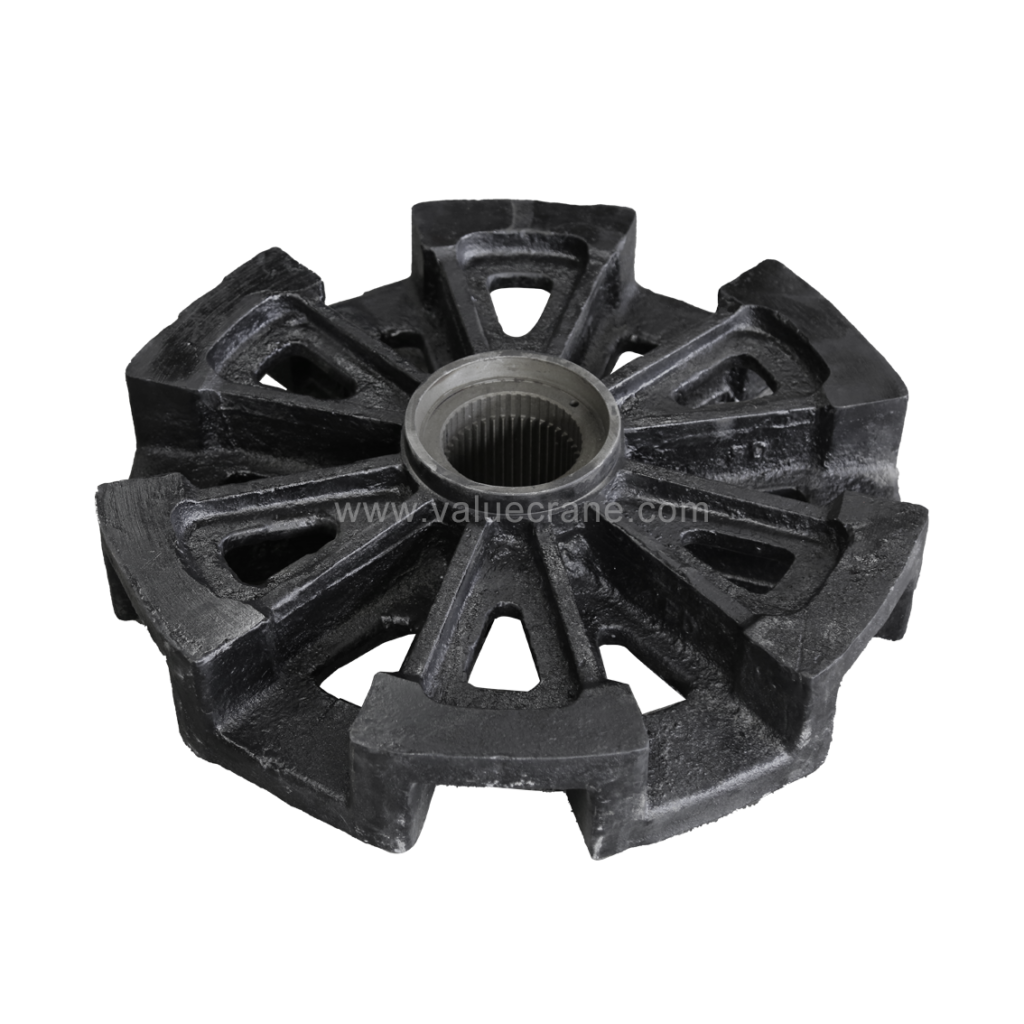 Drive System Components for Maximum Uptime
Hitachi engineers the undercarriage drive components like final drives and travel motors specifically for their crawler cranes. The final drives utilize robust gearing and bearings to transfer engine power to the sprockets. The motors feature hardened steel and high-capacity seals. Using genuine Hitachi drive system parts avoids premature failures and costly downtime.
Choose Value Crane for Genuine Hitachi Undercarriage Parts and Service
To keep your Hitachi crane running like new, Value Crane is your source for genuine OEM parts. As a certified Hitachi parts supplier, we stock components like shoes, rollers, idlers, sprockets and more. Our experts can find parts for older legacy cranes, too. Rely on Value Crane for the genuine Hitachi parts, service and expertise to maximize your crane uptime and return on investment. Follow on Facebook for latest updated & contact us today!