Hitachi-Sumitomo Undercarriage Crane Parts & Models
The undercarriage is the backbone of a crawler crane, providing stability, mobility and robustness for material handling jobs. For hitachi-sumitomo undercarriage crane Parts like the SCX800-2 and SCX1500-2, using OEM undercarriage parts preserves the engineered precision and safety these cranes are known for.
Hitachi-Sumitomo crawler crane parts models
| | | |
| --- | --- | --- |
| SCX400 | SCX700-2 | SCX900 |
| SCX500 | SCX800 | SCX900-2 |
| SCX700 | SCX800-2 | SCX1000 |
| SCX1200 | SCX1500-2 | SCX2600 |
| SCX1200-2 | SCX2000 | SCX2800-2 |
Hitachi-Sumitomo Undercarriage Components
Hitachi-Sumitomo crawler cranes like the SCX400, SCX500, SCX700, SCX800-2, SCX1500-2 and SCX2800-2 utilize customized undercarriage designs matched to each crane's capacity and application. Key components include:
Track shoes – Durable, double-grouser shoes provide all-terrain traction.
Track rollers – Flanged rollers support the shoes and promote smooth track movement.
Sprockets – Alloy steel sprockets efficiently transfer engine power to the tracks.
Idlers – Heavy-duty idlers properly align the track assemblies.
Final drives – Robust planetary gearing drives the sprockets.
Using genuine Hitachi-Sumitomo OEM parts for these critical components ensures proper fit, function and safety.
Why Genuine Parts Are Essential
Here are key reasons to rely on genuine Hitachi-Sumitomo undercarriage parts for models like the SCX900, SCX1200-2, and SCX1500-2:
Engineered to fit – Parts designed specifically for Hitachi-Sumitomo undercarriages.
Top-grade materials – Heavy-duty steel and compounds.
Precision manufacturing – Components machined and assembled to tight tolerances.
Guaranteed compatibility – Parts work seamlessly together.
Tested quality – Parts meet stringent OEM standards.
Maximum durability – Parts made to last longer than aftermarket pieces.
Factory support – Parts come with Hitachi-Sumitomo backing.
While generic parts seem cheaper upfront, OEM parts save money long-term through increased longevity, uptime and performance.
Rugged Hitachi-Sumitomo Track Shoes
The track shoes take the most punishment, bearing the crane's heavy loads across rough terrain. Hitachi-Sumitomo track shoes utilize thick heat-treated steel for strength and flexibility. The deep treads provide a multidirectional grip. Count on genuine shoes for a stable, long-lasting foundation beneath your SCX1000 or SCX2600 crane.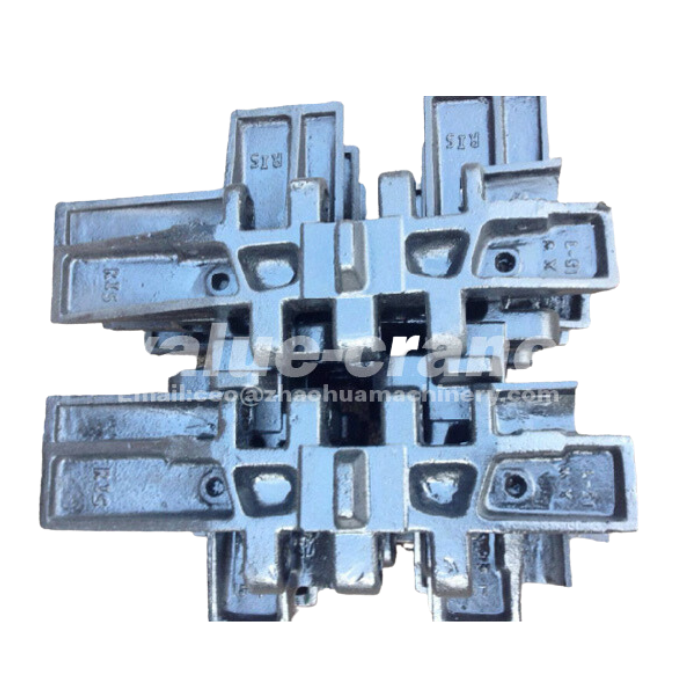 Smooth-Running Hitachi-Sumitomo Track Rollers
To protect the track shoes and promote even chain movement, Hitachi-Sumitomo rollers feature robust structural designs optimized for models like the SCX700-2, SCX800-2 and SCX2500. The thick roller shells resist deformation under load. Deep hardened treads minimize wear and friction. For reliable performance, always choose factory-approved rollers.
Durable Hitachi-Sumitomo Idlers
Stationary idlers properly align the moving track frames and bear the crane's weight. Hitachi-Sumitomo idlers utilize reinforced frames, precisely engineered mounts and top-grade bearings designed for each model from SCX400 to SCX2800-2. Count on genuine OEM idlers for heavy-duty support mile after mile.
Powerful Hitachi-Sumitomo Sprockets
The alloy steel sprockets efficiently transfer engine torque to propel the crane. Precision machining and hardening provide smooth interaction with the track shoes on cranes like the SCX900-2, SCX1500-2 and SCX2000. For optimal drivetrain performance, rely on genuine Hitachi-Sumitomo sprockets.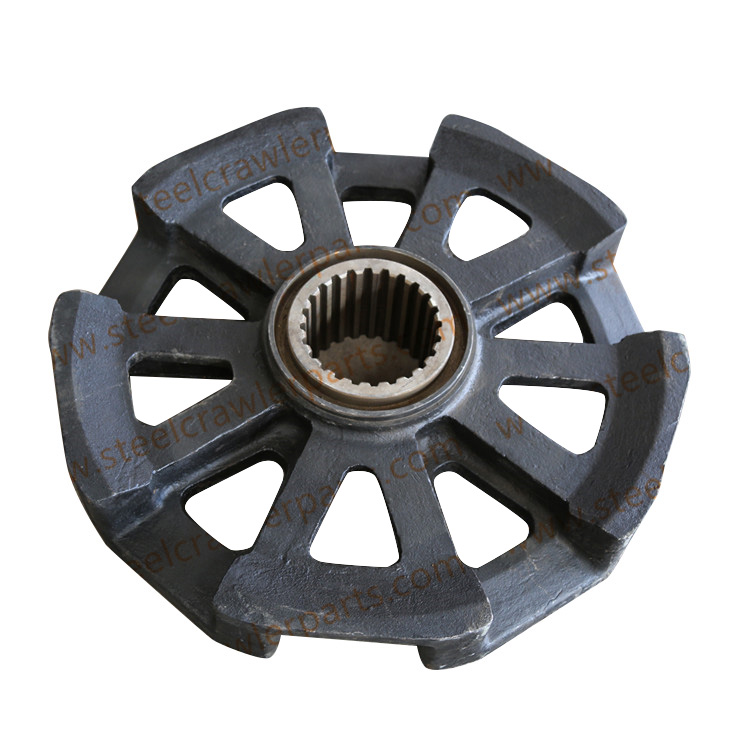 Robust Final Drives and Travel Motors
Hitachi-Sumitomo engineers the final drives and travel motors specifically for each crawler crane model from SCX400 to SCX2800-2. The final drives utilize heavy-duty gearing capable of years of reliable service. Using generic parts risks dangerous failures. For safety, choose genuine drive system parts.
Turn to Value Crane for Genuine Hitachi-Sumitomo Parts
To keep your Hitachi-Sumitomo crane performing optimally for years, turn to Value Crane for factory-approved parts for models like the SCX800-2, SCX1500-2, SCX2600 and SCX2800-2. As a certified supplier, we stock new and replacement undercarriage components to maintain your Hitachi-Sumitomo investment. Follow Facebook page for new updates & Contact us today!